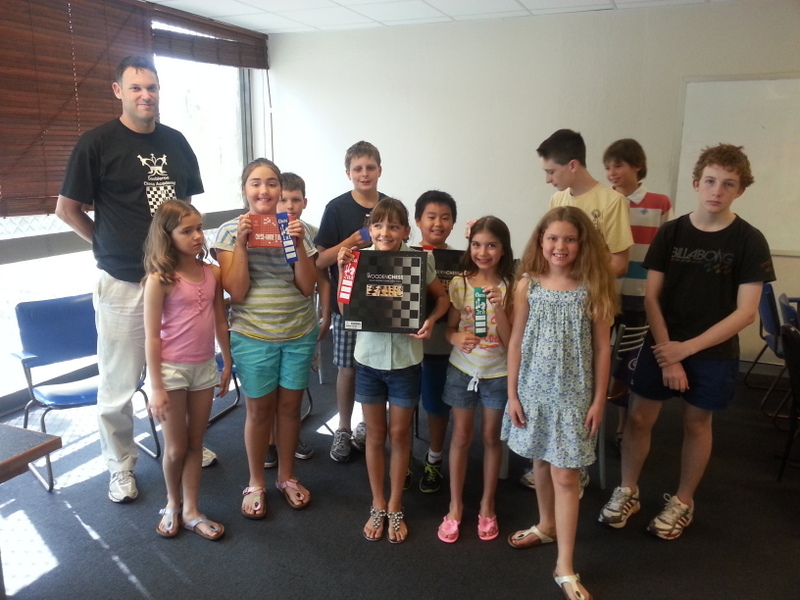 We were actually not sure whether to have a tournament at all. After all we had to move out the next day. (We literally packed up the entire building right after the prizegiving. ) But then we decided to have one last event in our Milton academy. With very short notice I was worried how many players would even find it. But thankfully the enthusiasm of some of our students matches our own. The atmosphere was really great all day. THANK YOU for that.
There were two categories: 1st, 2nd and third overall. And the same for girls. Congratulations to the winners!
We will announce soon when we will hold the next 'first Sunday ' tournament. Probably sometime in the beginning of March 🙂 For those who can't wait to play their next move: we will publish our program for term one this weekend.
See you in Albert street….
Place Name                Feder   Rtg         Score
 1   Slater-Jones, Tom   B     1634            7
2   Zhong, Tony (Bris)  B      1402           6
 3   Mather, Andrew      B     1423           5
 4-6  Slater-Jones, Henry B   1106        4
         Dale, Liam          B          795           4
         Desses, Alexander   B    984          4
7-9  Watkins, Sophie     B      657           3
        Drennan, Elisabeth  B    596          3
       Anstey-Walsh, Abbie B   733           3
10   Watkins, Bridget    B          611        2
 11   Watkins, Rachel     B                        1