Thanks to Nerang RSL for providing the Gold Coast Chess Club with a new venue. The regular club night will now be each Thursday starting promptly at 6:30pm at the building opposite the Nerang RSL Club – the Corporate Centre No. 60 Nerang St Nerang 4211.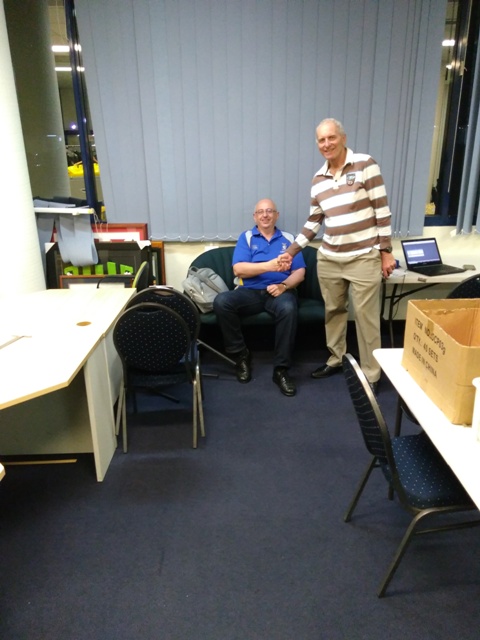 GM Suat Atalik won the Allegro with 5/5 – seen here being congratulated by Gold Coast Chess legend Graeme Gardiner.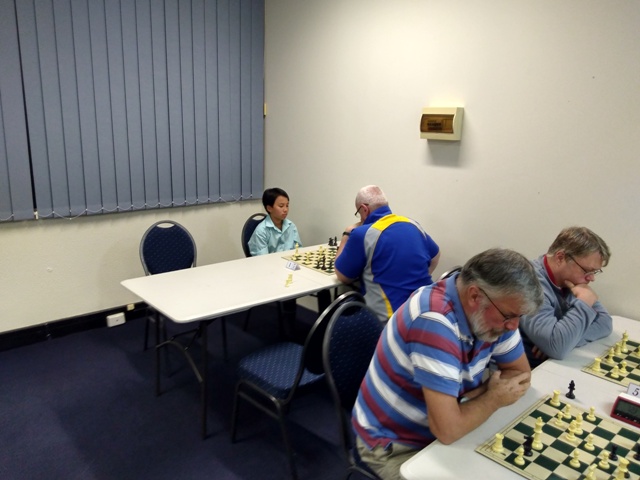 Nice to see Fmr GCCC President Bruce Harris still providing stiff competition, and on table 1 Jordan Chan let GM Atalik control the white squares…eventually going exchange down to a brutal Bishop skewer.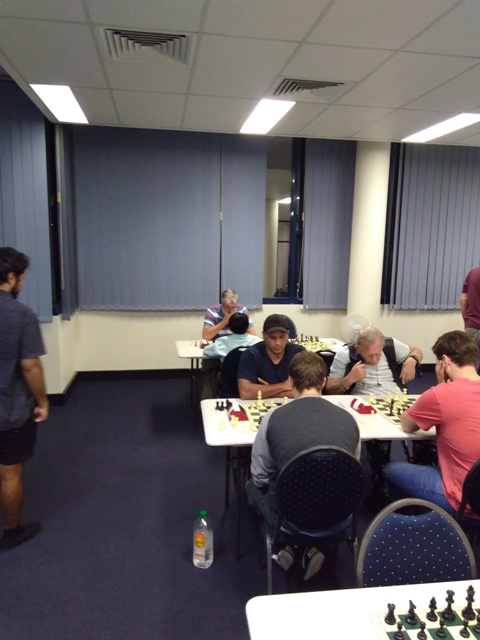 Welcome to newcomers Mark Hay and Harijan Fernandez. A special thanks to GCCC President FM Dusan Stojic for organising the event.
Place Name Feder Rtg Loc Score M-Buch. Buch. Progr.

1 Atalik, Suat TUR 2504 5 9.5 15.5 15.0
2-3 Wohl, Aleksandar H QLD 2408 4 8.0 14.0 12.0
Esmonde, David QLD 1196 4 7.0 13.0 11.0
4-6 Kitikov, Oleg QLD 1778 3 9.5 16.5 12.0
Fernandez, Harijan 3 8.0 14.0 9.0
Li, Jason QLD 678 3 6.0 10.0 7.0
7 Chan, Jordan QLD 973 2.5 7.5 13.5 8.5
8-11 Van Der Byl, Orsen QLD 516 2 8.0 13.0 7.0
Carr, Ethan GC 1053 2 8.0 12.0 5.0
Ming, Kenny QLD 724 2 7.0 13.0 5.0
Harris, Bruce QLD 1208 2 5.5 8.5 4.0
12-14 Dodge, Adam QLD 847 1 7.5 11.5 5.0
Hay, Mark QLD 1 6.0 10.0 2.0
Stojic, Dusan QLD 2257 1 1.5 5.0 3.0
15 Nekvapil, Ivo QLD 0 5.0 9.0 0.0
No Name Feder Rtg Loc Total 1 2 3 4 5

1 Atalik, Suat TUR 2504 5 10:W 3:W 2:W 4:W 7:W
2 Wohl, Aleksandar H QLD 2408 4 6:W 12:W 1:L 8:W 4:W
3 Esmonde, David QLD 1196 4 13:W 1:L 9:W 5:W 8:W
4 Kitikov, Oleg QLD 1778 3 9:W 5:W 7:W 1:L 2:L
5 Fernandez, Harijan 3 11:W 4:L 6:W 3:L 10:W
6 Li, Jason QLD 678 3 2:L 15:W 5:L 9:W 12:W
7 Chan, Jordan QLD 973 2.5 0:D 11:W 4:L 12:W 1:L
8 Van Der Byl, Orsen QLD 516 2 14:L 13:W 12:W 2:L 3:L
9 Carr, Ethan GC 1053 2 4:L 10:W 3:L 6:L 15:W
10 Ming, Kenny QLD 724 2 1:L 9:L 13:W 11:W 5:L
11 Harris, Bruce QLD 1208 2 5:L 7:L 15:W 10:L 13:W
12 Dodge, Adam QLD 847 1 15:W 2:L 8:L 7:L 6:L
13 Hay, Mark QLD 1 3:L 8:L 10:L 15:W 11:L
14 Stojic, Dusan QLD 2257 1 8:W 0:L 0: 0: 0:
15 Nekvapil, Ivo QLD 0 12:L 6:L 11:L 13:L 9:L